It's always important to remember to keep both hands on the wheel while driving. The AT&T campaign called the "
It Can Wait
" #itcanwait states that "95% of drivers disapprove of distracted driving, yet 71% engage in smartphone activities while driving." For over a decade, Toyota has been committed to helping teens stay safe behind the wheel. But we can't do it alone. Together, let's create the next generation of safe drivers states the
TeenDrive365
website, part of the toyota.com safety campaign. "But it shouldn't stop at teens," says Evelyn Brown, Customer Relations Manager at Valley Hi Toyota. "I think it's super important that we all adhere to the laws for us to focus on driving and keeping everyone safe on the road, especially in the High Desert," she continues.
Prom season is amongst us where many students will be headed to their local high school's annual end of year festivity. This particular generation was pretty much born with a cell phone in their hand.
On Monday April 10,
Victor Valley News
posted an article indicating that Hesperia's Traffic Division will be heavily enforcing laws regarding texting-while-driving, or talking on the cell phone. "We think it's an important reminder not just for Hesperia, but the entire Victor Valley to abide in the safety of our community. Please don't drive distracted, don't text and drive." says General Manager Todd Stokes.
During the current sales campaign called, Leading the Way sales event, Toyota is exhibiting the Toyota Safety Sense (TSS) is standard in 14
models
. From the
Toyota Safety Sense
Website:
The road can be unpredictable. That's why we created available Toyota Safety Sense
™
14
: to help protect drivers, passengers and pedestrians (TSS-P only) from harm. Toyota Safety Sense
™
(TSS)
14
is designed to help protect drivers, passengers, people in other vehicles on the road, and pedestrians (TSS-P and AHB). TSS is comprised of multi-feature active safety packages anchored by automated pre-collision warning and braking. TSS is designed to support the driver's awareness, decision-making and vehicle operation over a wide range of speeds under certain conditions. Packaged together in an integrated system, TSS features help address three key areas of accident protection: mitigating or preventing frontal collisions, helping to keep drivers within their lane, and enhancing road safety during nighttime driving. Always drive safely, obey traffic speed limits and laws, and focus on the road while driving.
Those these features are important to ensure a safer driving experience, it is still preferable to not get into a situation where the Pre-Collision System (PCS), Lane Departure Alert (LDA), Automatic High Beams (AHB), or the Pre-Collison System with Pedestrian Detection Function (PCS w/PD) are needed. It's aways better to be safe than rely on the vehicle.
WE ARE CLOSED EASTER SUNDAY
Toyota has more 2017 IIHS Top Safety Pick Plus winners than any other brand, but that
doesn't
ensure a completely safe driving
experience. It's always best to avoid a crash altogether, but when it is not, it's good to know Toyota's models have a high safety rating.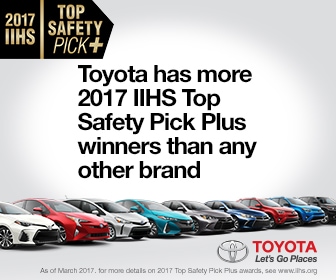 The San Bernardino County Sheriff's Department sent this
press release
in regards to Distracted Driving:


Summary
Distracted driving is anything that takes your eyes or mind off the road, or your hands off the steering wheel – especially texting and cell phone use. These are the most dangerous things we do behind the wheel that many people do not think about because it is so common.

However, it is important to recognize the dangers of distracted driving. In California, cell phone laws were enacted to help prevent distracted driving. These laws prohibit cell phone and electronic wireless device usage among any driver, transit, and school bus drivers, except for valid emergency or work-related purposes. Any driver under the age of 18 cannot use a cell phone or any other electronic wireless device at all, not hand-held, hands-free, Bluetooth, speakerphone, or any other means.

With a new law in place that expands on the previous cell phone laws in California, AB 1785 prohibits driving while holding a cell phone in your hand. If the cell phone is used in a hands-free manner, such as voice command or the use of a mounting device, it is completely legal. While driving, you can single swipe or tap the screen to activate or deactivate a feature or function, but you cannot text, scroll or tap multiple times. This law is designed to prevent distracted driving and to help make California's roads safer.

During the week of April 10th to April 14th the Hesperia Traffic Division will be deploying a special operation by doing saturation's each day looking for distracted drivers. Violators will be stopped and cited. This operation is to help reduce distracted driving related traffic collision. For info: Jackie Chambers, Media Relations
During Valley Hi Toyota's Leading the Way sales event, you can save on your next safe vehicle. Valley Hi Toyota reminds you to not drive distracted. Download our APP (but use it at home or set your appointment) iPhone or Android.