When it comes to car shopping in the High Desert, a common phrase you'll hear is "you'll find a better deal down the hill." Which is the perfect concept when it came down to design Valley Hi Toyota's latest billboard.
Remember the kids game, telephone? It was used to teach us that in just a few conversations something said can change dramatically. Now we have
Twitter
, where in 140 characters, rumors, stats, misquotes, and opinions can spread. But not only during a fire drill in elementary school, but in a blink of an eye and throughout the world of social media.
"For years the notion was that when you drove down the hill into San Bernardino, Riverside, or Redlands that you can find the best deal on a new Toyota. It's just not the case." say
Todd Stokes
, General Manager at Valley Hi Toyota. "Our pricing structure is competitive and we want our customers to stay 'up the hill' so to speak, because we want to take care of our community in the High Desert," Stokes continues.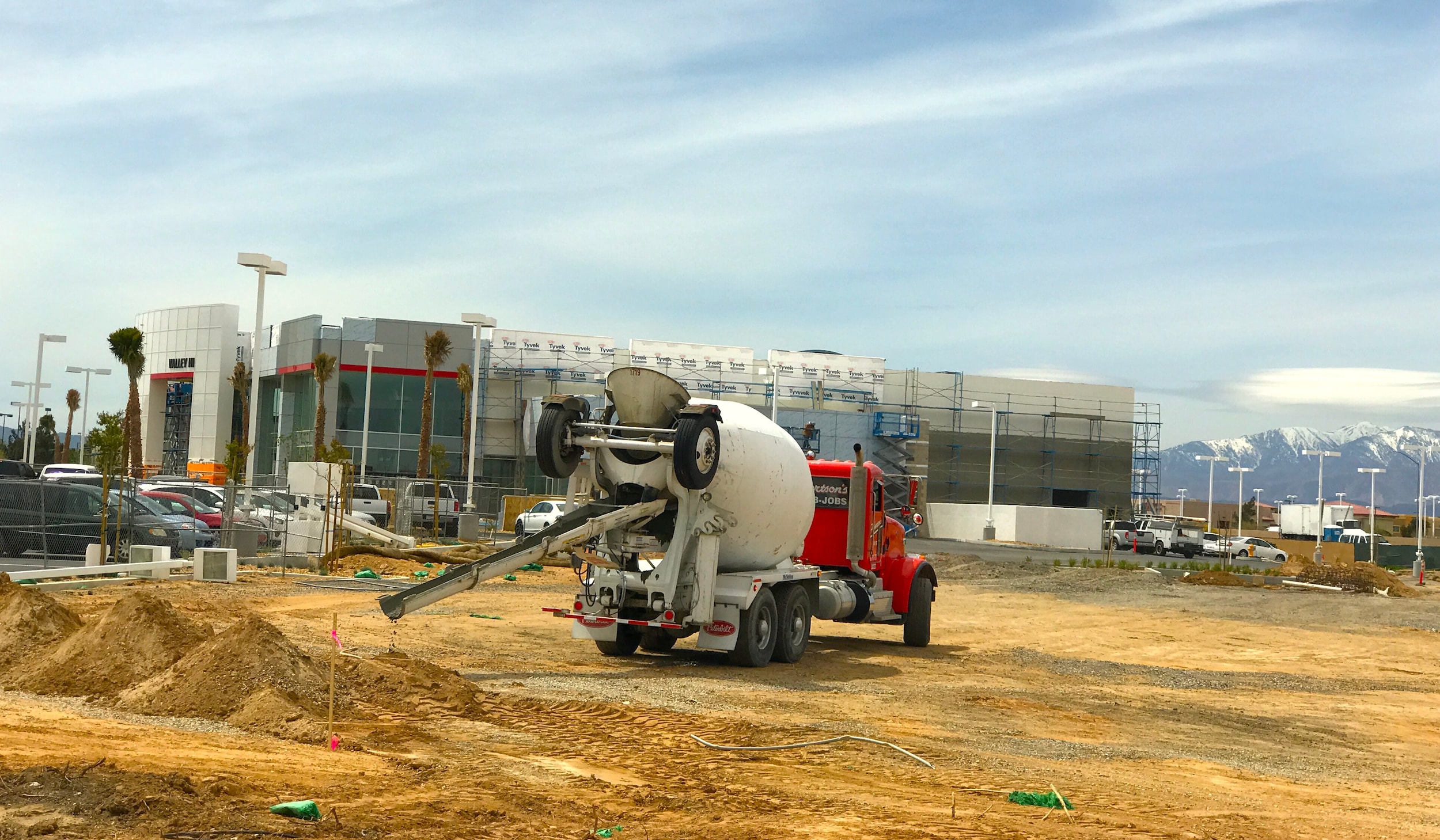 In a few months, construction will be complete of a new, state-of-the-art Toyota dealership where the over 400,000 residents of the Victor Valley, including Hesperia, Apple Valley, Phelan, Twentynine Palms, Barstow, the Lucerne Valley, and more can car shop on a huge lot with more than 1,000 vehicles on the Valley Center Drive lot and enjoy the 15,000 sq. ft showroom. Also, more lanes in the Service Drive will serve more customers on a daily basis to receive an oil change with a Genuine Toyota OEM parts store in the dealership or where the great team of certified service technicians can perform recalls, and maintenance . "We're excited to have over 60 lifts in order to balance tires, do brake jobs, and more on not only Toyotas, but all makes and models," says
Joe Marquez
, Service Director at Valley Hi Toyota. But during the month of April, we have the
Tire Sales Event
of Buy 3 Tires, Get the 4th for $1. Hopefully that can tie ya over until we move!"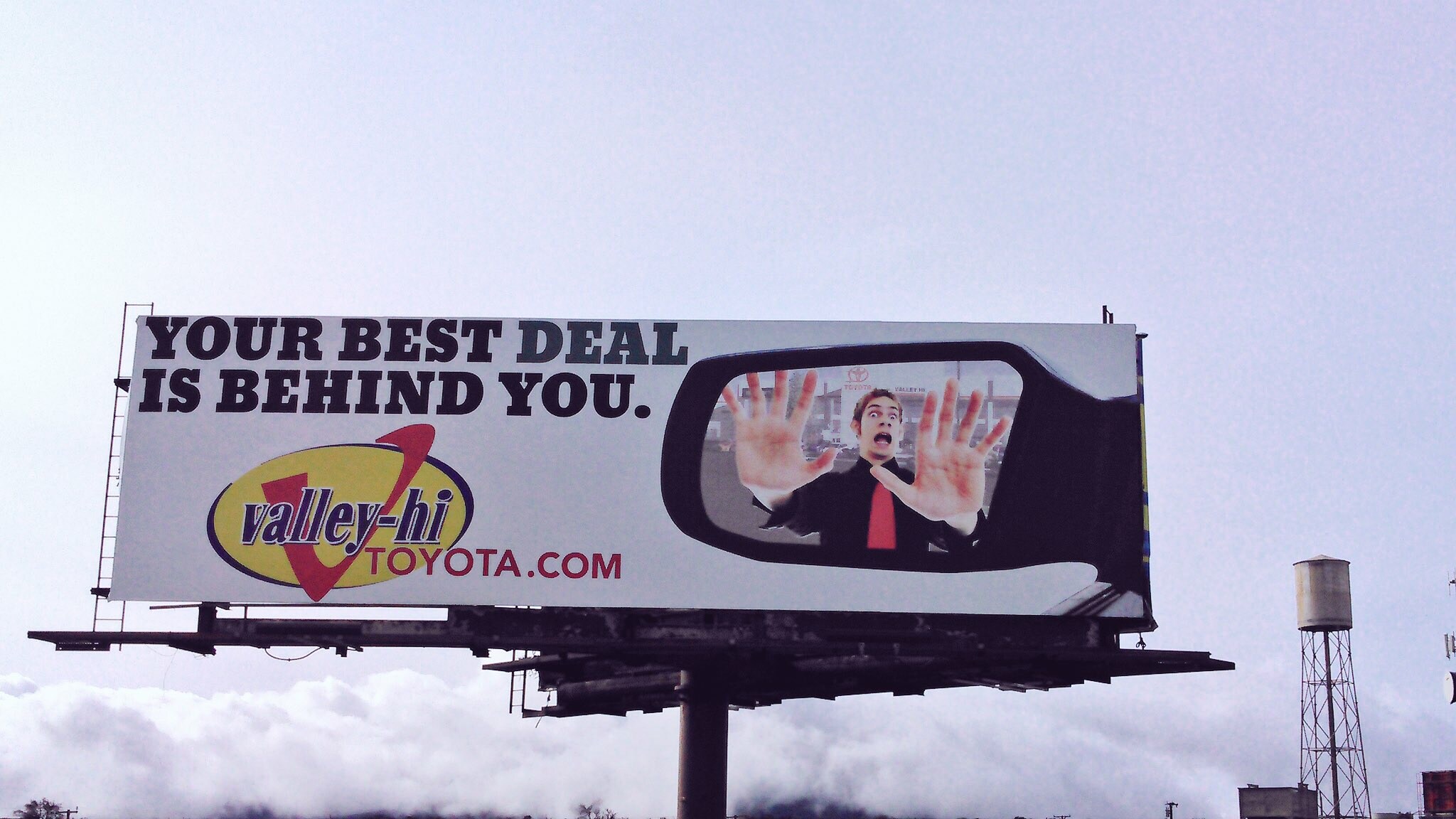 Our new billboard along the 15 Freeway on the Cajon Pass emphasizes the fact that we want to build trust and answer the question, "Should I buy at Valley Hi?" The over
25,000 commuters
down the hill will see the billboard on the southbound side just pass the Oak Hills exit right next to the historic
Summit Inn
(which is closed due to the
Blue Cut Fire
). The concept is that someone driving down the hill will be in the perspective of the driver looking in the mirror, with a salesperson from
Valley Hi Toyota
signaling to the family to wait, there's no need to drive down, "your best deal is behind you." "It was a concept one of our managers came up with," says Brian Ortega, social media marketing manager at the Victorville dealership. "My job was to make it simple, yet legible, you only get 4-6 seconds to read a billboard and I wanted to include some shock, comedy, and the new dealership in one fell swoop. Hopefully, it will get High Desert commuters to smile, but also share the message that we have great deals on
Camry
,
Corolla
,
Tacoma
,
Rav4
, and especially a commuter's best choice for a gas saving vehicle, the 2017
Prius
during our
Leading The Way Sales Event
."
The new dealership located at 16412 Valley Center Dr. is expected to be complete mid- Summer 2017. In the mean time, you can find amazing, up the hill Toyota deals at 14644 Valley Center Dr. right next door to the new dealership. You can catch up with all the updates
here
. You can read some of our Reviews of people who chose to buy with us
here
, or on Yelp
here
.
For fun contests and giveaways, like our infamous Used Car Giveaway, be sure to
LIKE
Valley Hi Toyota on Facebook.