by
Evelyn Brown
(from our
newsletter
)
May is an extremely hard month for our nation's military families the world over. It is a time of reflection for us to never forget the sacrifices our men and woman in uniform make for you and me. You know them; the ones who go to war in lands that are not their own.
My mind wandered to two distinct but yet important events in our history. First remembering Seal Team Six commonly known in military circles as Extortion 17. In 2011 this team single-handily took out the terrorists who attacked the World Trade Center only to lose their lives fighting additional terrorists in August of that same year.
The second being a story of how the poppy flower came to be the symbol of those lives lost during World War I. So lest we forget I thought I would share with you the details of the "Poppy Flower."
I knew the poppies symbolized our fallen soldiers. I have placed a poppy on my dash cover in my Camry and left it there proudly so I would never forget to pray for soldiers who serve, but I did not know the idea of its true meaning. My cousin shared with me the following story: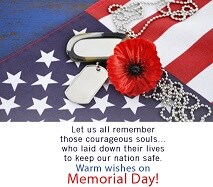 "I saw a man selling poppies stop a lady and asked if he could re-position her poppy. While doing so he proceeded to tell her; people should wear the poppy on their right side, the red represents the blood of all those who gave their lives. The black represents the mourning of those who didn't have their loved ones return home, and the green leaf represents the grass and crops growing and future prosperity after the war destroyed so much. The leaf should always be positioned at 11 o'clock to represent the eleventh hour of the eleventh day of the eleventh month, the time that World War I formally ended."
He was worried that the younger generations wouldn't understand this and his generation wouldn't be around for much longer to teach them. We must remember all who have sacrifice their all. With that the lady thanked the retired veteran and never again looked at the poppy the same way. Valley Hi Toyota would like to thank those families who have paid this ultimate sacrifice.We do not take it lightly and they will never be forgotten.
We also want to take this opportunity to thank the men and women of the military and their families for their sacrifices. This is a reminder that Valley Hi Toyota is offering a $500 rebate to the U.S. military personnel* So whether you're at Fort Irwin, Edwards Air Force Base, or anywhere nearby- we're here to thank you and want to help you get into a Camry, Corolla, Tundra, Tacoma, or more. Click Here for details.
Our Memorial Day sales event begins on Friday May 26-Monday May 29 with BBQ on Saturday, Sunday, and Monday from 11am-2pm.
In Flanders Fields, Lieutenant-Colonel John McCrae 1915
In Flanders fields the poppies blow
Between the crosses, row on row,
That mark our place; and in the sky
The larks, still bravely singing, fly
Scarce heard amid the guns below.
We are the Dead. Short days ago
We lived, felt dawn, saw sunset glow,
Loved and were loved, and now we lie
In Flanders fields.
Take up our quarrel with the foe:
To you from failing hands we throw
The torch; be yours to hold it high.
If ye break faith with us who die
We shall not sleep, though poppies grow
In Flanders fields