United States Marine Corps Veteran Ian Ahlstrom won Valley Hi Toyota's Used Car Giveaway in December 2018, just in time for Christmas. The contest began on Halloween during a Facebook Live reveal of a 2006 Toyota Matrix. Over four thousand comments of "IWANNAWIN" qualified people to win. It was that easy to qualify.
Then, on Veterans Day, the Victorville Toyota dealership asked people to nominate a Veteran where 4 random Veterans would qualify automatically. Members of all the branches were represented. Two other contests followed where in the end, 26 total finalists were place on Christmas trees.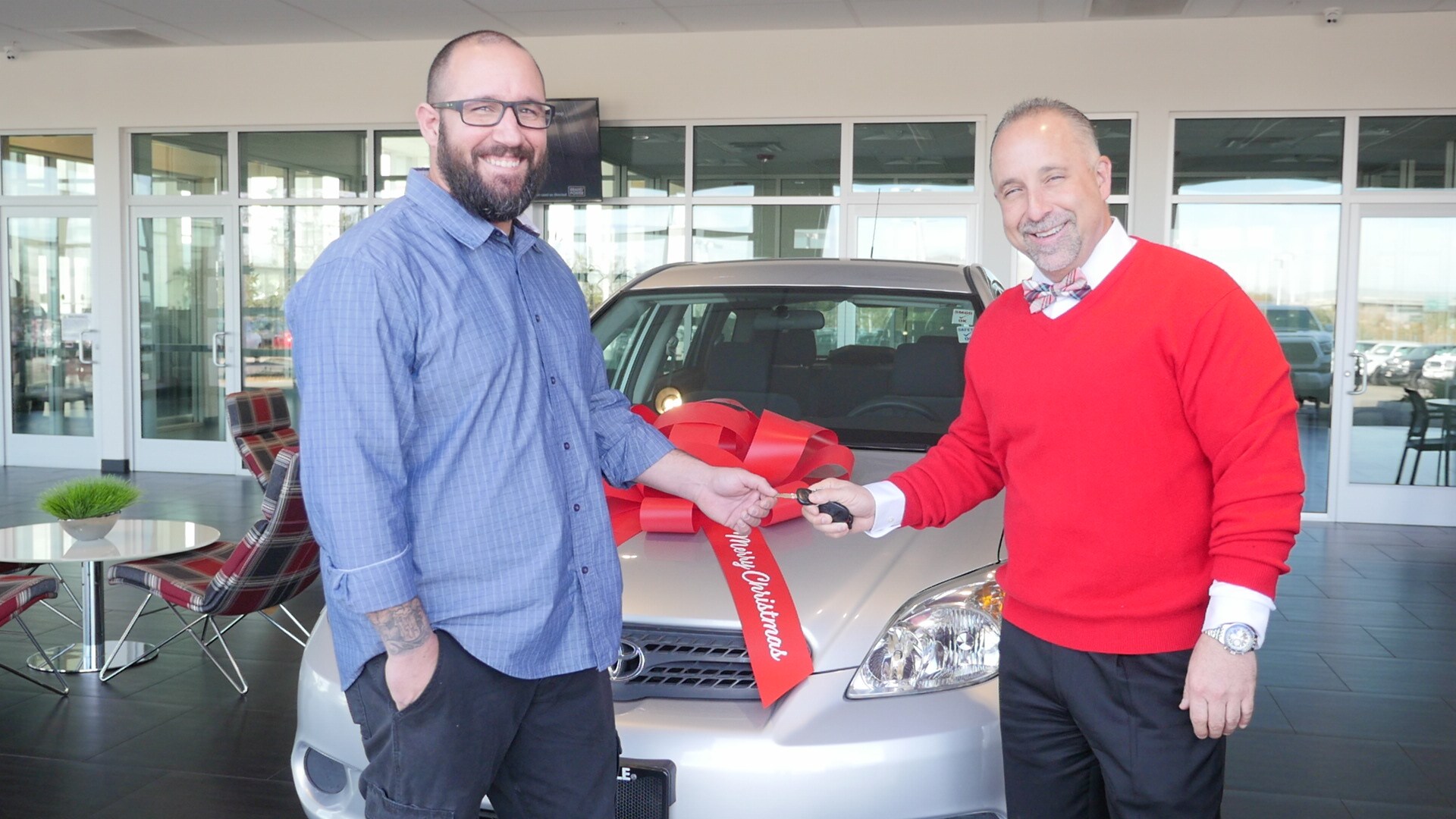 Only 18 would make the "Nice List" where their names were placed on a wheel at the Victorville dealership. Toyota General Manager donned a Santa hat with "Nice" embroidered on it. After the 18 made the wheel, he suddenly changed his hat to say, "Naughty." This is where the contestant did not want the wheel to land on their name.
"I thought it would be a clever way to reward then penalize contestants in a fun way," said Stokes. Customer Relations Manager Evelyn Brown, Internet Sales Ashley Villanueva, and Todd took turns and spun the wheel where the last person standing would win the car. Winner Ahlstrom was at work in Barstow, at BSNF- his wife, Megan was recording her reaction as the contest drew closer to the end.
"I think it's awesome to get people's reactions while we're broadcasting on Facebook Live," said giveaway coordinator and Creative Director, Brian Ortega. "It's all about video now and to have that moment it so entertaining." Megan Ahlstrom recorded her expression, which is priceless. Ian and Megan have two young children and reside in Apple Valley.
"This car is definitely going to help my family as it will serve as my commuter vehicle," said Ahlstrom, "It's my first Toyota and my parents-in-law love their Toyotas that they actually bought from Valley Hi Toyota. We're going to have an amazing Christmas." Ahlstrom served from 2006-2012 as a Tank Crewman at Camp Pendleton and did one tour in Iraq in 2008.
Watch the highlight video here.
https://facebook.com/valleyhitoyota/videos/2575908779102924/
"It's 2019 and we're going to continue to give cars away!" said Ortega. "It's such a life-changing event for families and we have a blast being engaged with the High Desert community. Although it's open to all Californians, the local High Desert community is the most involved where all of the winners reside.
Valley Hi Toyota has given away 17 vehicles in 3 1/2 year.